For PC & Mac
Calvert Online is compatible with most web browsers on both Windows® and Macintosh® operating systems.
Auto-updates
Unlike traditional textbooks, course updates are made automatically, so you never have to install updates again.
Secure Storage
Your child's grades are securely & neatly stored for 7 years, so you can accurately prepare highschool transcripts.
Green Learning
Calvert's unsurpassed online learning program eliminates the need for textbooks, DVDs, or printed assignments.
Get Access to over 45 Courses for up to 3 Students.
Your Online Plan gives you unprecedented access to over 45 online homeschooling courses for up to 3 students in the four subjects of history and geography, language arts, math, and science.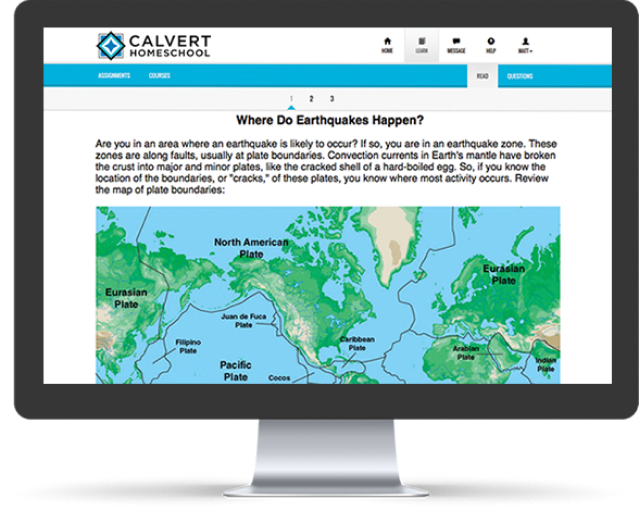 Anytime Access, No Installs
Learning never stops! Perfect for your on-the-go schedule, Calvert's online homeschool curriculum is accessible around the clock. Completely online, Calvert online makes software installation a thing of the past! With just a username and password, you're curriculum-ready in seconds.
ONLINE: GRADES 3-12
Automatic Grading
Enjoy freedom from paperwork! Automatic grading and recordkeeping conveniently record lesson assignments, test scores, and upcoming assignments for more hands-on teaching time.
Teacher's Dashboard
Calvert provides a convenient and clear series of views for teachers. Track assignments, progress, grades and more from a secure screen. Teachers can know exactly where their students stand and focus efforts to address and resolve challenges, reward achievements and celebrate successes.
Explore Calvert Online
This complimentary webinar presents an overview of Calvert Online to those who have newly joined the curriculum and those who are still in search of the right fit for their homeschooling family. Get a detailed summary of Calvert's Online features and a demonstration of how the online curriculum works from both teacher and student views, as well as an opportunity to ask questions that are unique to your student's learning needs!
FREE WEBINAR
Wed 10 a.m. & 5:30 p.m. (CT)
4 Budget-friendly Plans
With individual and family subscription options, you gain access to over 45 online homeschooling courses covering the four core subjects of history and geography, language arts, mathematics, and science. Calvert Online makes homeschooling streamlined and easy.
Thousands of multimedia elements
Automatic grading and recordkeeping
Secure online curriculum for PC & Mac
Instant online access. No installs.
Individual Online Plans
1 student
Yearly Save 20%
$399.95 $319.96 / yr
Family Online Plans
Up to 3 students
Yearly Save 20%
$699.95 $559.96 / yr